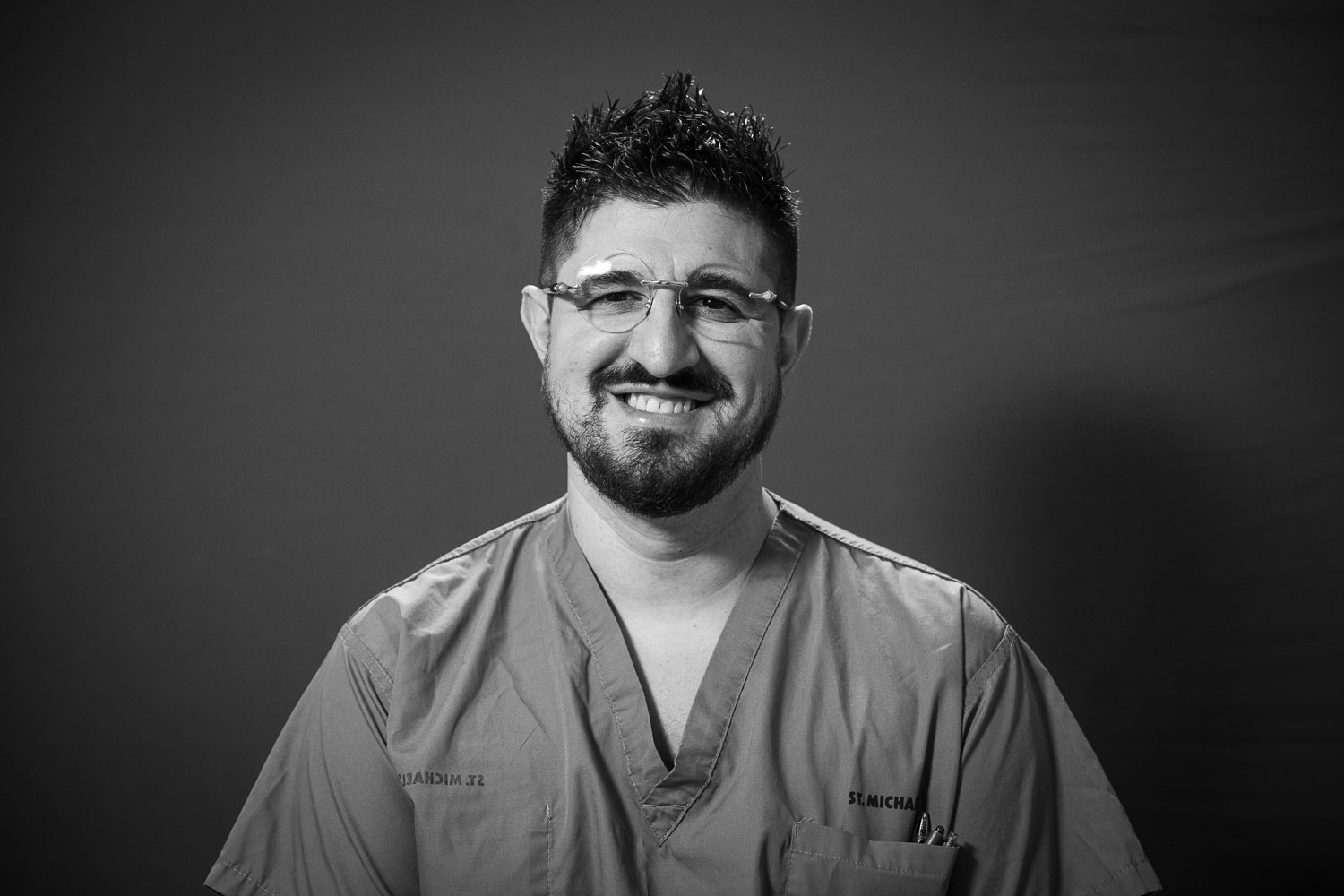 Joshua Carvalho
REGISTERED NURSE (he/him)
I never thought I would end up in nursing, or work for a healthcare organization in downtown Toronto, or have such an impact on people's lives. I worked in banking for 10 years and I really enjoyed the service aspect of my job. I liked being knowledgeable and helping people.
I was ready for something different and I wanted to move beyond a job with four walls. I did a pre-health sciences program at Mohawk College and I discovered I was really good at it. That led me to biology, chemistry and physics and I met really great people who told me 'Josh, I think nursing is for you!' It felt like a greater calling – I went to school for nursing and did my Master's, and I've been at St. Michael's for four years.
Nursing and banking have similarities. You need to get to know people's entire lives to create a financial picture for them, and the only way you can do that is to get to know the core of a person and what they value. Those are the same themes in nursing – you really have to get to know their story. That can be hard in the emergency department (ED) because it's so fast-paced.
St. Michael's has the blessing of being located at the Church Street corridor. One of our values as an organization is 'community' so if we're going to say the doors are open for everybody, we have to go out there and show that the doors are open for everybody. Last year, I brought forward the idea of us hosting a booth at Pride Toronto's Street Fair. Being a Catholic healthcare organization, I wasn't sure what to expect, but executives got behind it, Communications was involved, and so many people across the organization volunteered their time. I thought it was just going to be a little Emergency Department, home-grown grassroots thing… It was bigger than I ever thought and I was very humbled.
When we had the booth, so many people dropped by to say how St. Mike's saved their life, or to tell us about an experience where our people were respectful of their pronouns, or how we offered their partner great care when they needed it. That week, we all wore t-shirts that had Everyone belongs. Everyone is welcomed. Everyone is celebrated. written on the back. It was very powerful. I remember hearing about a same-sex couple who came to the ED who had a lot of problems in the healthcare system in the past. When they saw some of the staff wearing the shirts and were told it was because we were participating, formally, in Pride – they were so appreciative of us being supportive, for acknowledging that representation matters and they felt safe.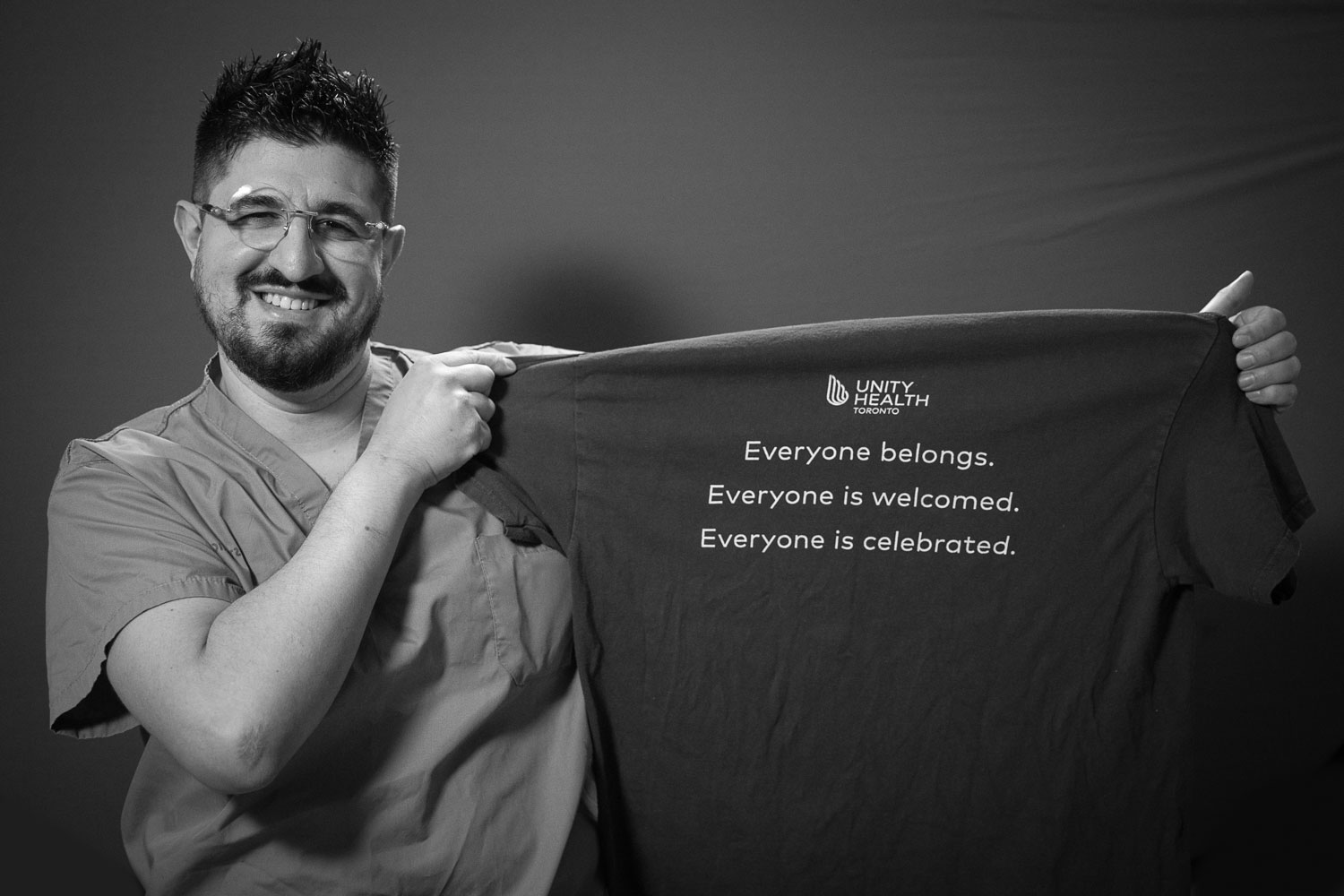 It can be a challenging thing to make people feel safe in the healthcare space. There are a lot of institutional barriers that prevent people from expressing who they are, or some people don't feel comfortable because off previous experiences in the healthcare system. It gets back to understanding the core of a person and what their story is. For them to feel vulnerable to tell their real story, you have to create a space that is safe for them to do that.
There have been times in my life where I felt like I couldn't be myself. I'm a first-generation student, who went to school in a big city. I felt afraid of what might happen at times. Growing up was a little bit hard – I was a victim of bullying and I had to be in spaces where I knew I wasn't welcome, but I had to be there as a result of circumstance. That was a really hard thing. I would feel completely out of my skin. I hope no one ever feels like that – it's awful, especially in healthcare. People spend some of the worst days of their life at the hospital. To have to come to a place where they don't feel welcomed, respected or heard – it's really terrible and traumatizing.
If my teenage self could speak to me now, he would say, 'Look at the difference you're making in people's live just by being a kind person. You had some difficulties in your life just from being different and not being accepted as who you are, but in the end you'll be able to use that to your advantage so others do feel like they belong, are welcomed and are celebrated.'
Joshua Carvalho is a Registered Nurse in the Emergency Department at St. Michael's Hospital.
As told to Jennifer Stranges. Photos by Eduardo Lima. This interview has been edited and condensed.